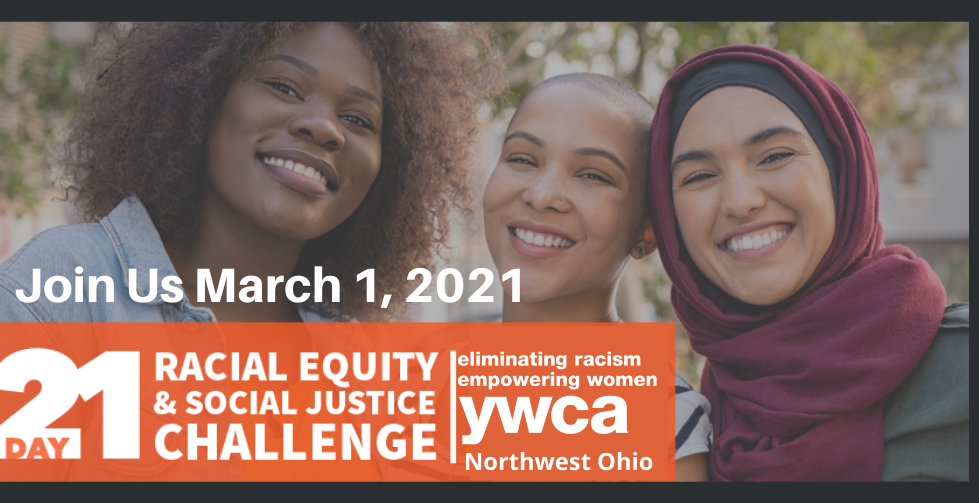 The YWCA of Northwest Ohio, whose mission includes the eradication of racism, invites the community to a 21-Day Challenge beginning March 1.
Each weekday through the end of March, participants will be emailed an invitation to such activities as reading an article, listening to a podcast, or reflecting on personal experience. Participation is intended to: Help us discover how racial and social injustice impact our community; connect us with one another, and identify ways to dismantle racism/discrimination.
From the YWCA website: "The challenge is designed to create dedicated time and space to build more effective social justice habits, particularly those dealing with issues of race, power, privilege, and leadership… We hope that you will go into this challenge with an open heart and open mind, ready to be pushed out of your comfort zone. We know these discussions can be difficult and can bring up powerful emotion, but your commitment to increasing your awareness is what will help move our community forward."
Trinity has signed up as an organization, and if you want to join, you'll need to register individually to receive the daily emails (link below). If you register, please let Lynzi know by email; we'd like to know how many folks are taking advantage of this opportunity.
As a faith community, each parishioner has a few options of how to participate beyond the daily emails:
1) You can join the YWCA's virtual town hall at the end of the challenge.
2) You can join the YWCA's 21-Day Challenge Facebook group.
3) We can consider creating our own weekly/end-of-challenge virtual discussion group if there's sufficient interest.
Ready to learn and be challenged ? Sign up here: