Welcome to Trinity Episcopal Church, Toledo!  Whether you are new to our community or have found yourself co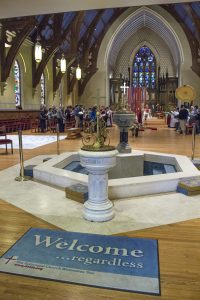 ming back again and again, we want you to know you are both welcome and wanted here among us. For some, church is as comfortable and familiar as a good pair of jeans, or like coming back to your childhood home (if it is one filled with good memories). For others, church might be like visiting a foreign country where you experience unfamiliar language or customs. And sadly, for some, church has become equated with feelings of hurt, rejection, or shame. We get all of that and believe church can be different.
We hold in real tension the beauty of our tradition with Jesus' mandate to welcome all, no exceptions. And we get that if people are brave enough to walk through the doors of a big Gothic-looking church in downtown Toledo, we'd better be serious about being progressive, inclusive and creative.
We love our Episcopal tradition, but we love people from all walks of life even more. It's our hope and prayer that together we will navigate our way through each gathering, worship service, outreach activity, class, meal and social time together with humility, grace and laughter.
May you never forget you are loved,
Lisa
(Rector)