[ The next few weeks will highlight the wonderful volunteers down at Next To New thrift shop, one of Trinity's Ministry Partners. Next To New, located in the lower-level of Trinity, has been serving the local community offering low-priced, high-quality new or slightly used clothing, household goods and kitchenware for nearly 70 years.]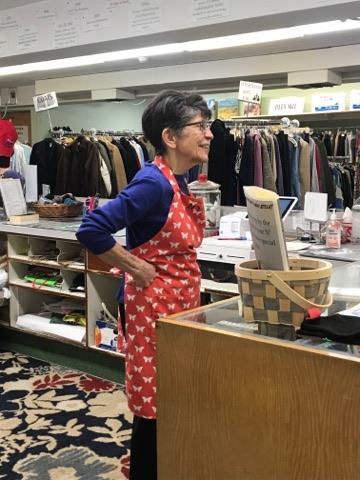 I have been volunteering at Next To New for over 30 years and have seen and experienced so much! I worshipped at Trinity and volunteered at Next To New once a month, or so, and after my husband passed away, I began volunteering once a week – now you have find me behind the cash register every Thursday! I remember that Marilyn Sager was manager at the time I began, and since then we've seen more than 6 managers leave their own unique impression on the shop. I've witnessed major reconstruction of the basement, the coming and going of various volunteers and leadership, and schedule changes to service and marking days. But one thing has remained the same throughout all of these years and changes…Next To New has always remained a safe, friendly and inviting place to shop!
One of my favorite parts of volunteering at Next To New is the chance to interact with the people who come in! It's always so great to be able to help those that are shopping on a budget find some great treasures!