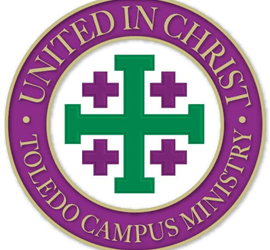 Rev. David M. Montgomery, Executive Director
2086 Brookdale Toledo, Ohio 43606
(cell) 419-345-2193
(office) 419-536-4865
Supported by the American Baptist, Disciples of Christ, Episcopal Church, Evangelical Lutheran Church of America, Presbyterian Church (USA) ,United Church of Christ, United Methodist Church, Toledo Mennonite Church, and all persons dedicated to Christian Unity.
TCM seeks to create authentic Christian community for friendship support, and fellowship on the college campus.
TCM challenges students to grow in their biblical understanding and consider how these truths transform the way we think about ourselves and others.
TCM celebrates its ecumenical identity and works to expand persons' appreciation  and knowledge of the unique gift each denomination has brought to our Christian heritage.
In the name of Christ, TCM challenges all students at the University of Toledo to serve others in caring and life-changing ways.