Y'ALL WE ARE HERE FOR PRIDE! THIS IS WHAT IS UP: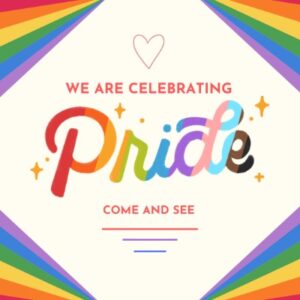 FRIDAY NIGHT:
We will be assembling in My Brother's Place, volunteers, if you are able to get here at 3pm to help set up that would be great! Other than that, it starts at 4 and rolls through until 7pm. We'll have different stations people can choose from to be a part of, and if you have any questions please email me.
SATURDAY:
As always we'll be presenting three options to volunteer at, the parade, hospitality@316, and the park booth. You should have received or be receiving an email from the person in charge of the area you signed up for, but here is a brief overview of times/places to be at:
– Church doors open at 9am, we'll be setting up then, and if you have signed up for a shift, please arrive at the appropriate time. Or come early!
– Parade marchers will be assembling at 21st street starting at 9:30, registration ends at 11. Rebecca sent out an incredibly detailed email so please reach out to her if you have any questions.
– We'll be setting up the booth as soon as we can, so if you are signed up for the first shift, Kimberly will be here early.
Y'all. This is going to be so much fun, and what a great way to show our neighbors we love them.
Any questions, please reach out. Looking forward to seeing you all tomorrow and Saturday!