Beloved Friends-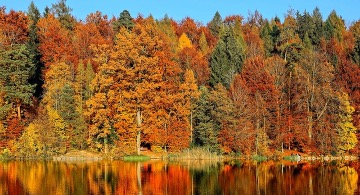 I suspect I am not alone in my love for the change of color that seems to wash over us this time of year whenever we step out the door into the cool crisp air. Last weekend Kim and I were able to head north for a short trip up to our family's homestead in Michigan's Upper Peninsula, and in all the decades of visits to that special place, neither of us remember a more glorious array of fall colors- as if God was "showing off" through Her foliage! I was so grateful for a time of sabbath rest and to take in the exquisite beauty of the trees and the land.
As someone who grew up in the Midwest, then spent a couple decades away, and is now home again, I am mindful of the sacredness of the seasons we are afforded in this corner of God's vineyard. Each unique and distinct and in need of the other; one cannot happen without a time of change before and after.
As one season morphs into the next there is always a transition one to another; sometimes I notice the gradual change as it is happening, and other times it just seems to happen all at once. But regardless of my attention, nature moves forward in its organic cycle of birth, life, death and then new life again- each marked with its own expression asking nothing of us but offering so much if we take the time to breath it in and absorb its grand array. It is a good reminder and call to humility that all this goes on day after day, season after season regardless or perhaps, in spite of us.
Change is a curious thing though isn't it?
Sometimes I think we are more willing and able to embrace its imperative movement in nature than in our own lives. While change is necessary for our own spiritual growth it is also often disorienting and sometimes frightening. One aspect of this pandemic has been the clarion call of the need for so much change in areas social justice and equality. Day by day we are peeling off the layers of privilege, apathy, ignorance and fear stepping into new ways of embodying and engaging each other based on dignity, respect, humility and kindness. We change as we follow Jesus on the path, bit by bit, in hopes of birthing a stronger sense of God's call in our lives.
Change is one of the most basic aspects of the human condition and yet, we know firsthand it can often confound or confuse us and our need for stability and a sense of continuity. And during this time of COVID I wonder if you too are feeling disoriented and in need of something stable and un-changing? Those are the moments I am so very grateful we have each other – the Body of Christ.
We are a community of faith that is BOTH- stable AND changing as we grow our membership, deepen our engagement in the city, expand our reach to offer help and hope to our neighbors. As we continue to explore new mediums and formats for worship, formation and leadership opportunities we are growing and spreading some new wings together. Some of that growth is scary and all of it is holy. I give thanks this day for each of you and for the gift of Trinity in our lives.
So as we continue to walk through this challenging time- let's stay as close as we can in all the ways that we can. May each of us remember to say our daily prayers of thanksgiving for who and how we are changing every day, growing in faith, courage hope and love. We live in a world that needs us to change for good and for God, perhaps now more than ever.
May you never forget that you are loved,
Lisa