[ The next 6 weeks will highlight the wonderful volunteers down at Next To New thrift shop, one of Trinity's 2019 Ministry Partners. Next To New, located in the lower-level of Trinity, has been serving the local community offering low-priced, high-quality new or slightly used clothing, household goods and kitchenware for nearly 70 years.]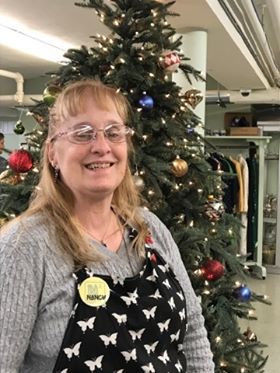 Next To New has been a very large part of my life, beyond the 5 years that I have been volunteering there. I actually found myself at Next To New as a frequent shopper; I had been volunteering at Morning Blessings at St. Paul's downtown for 4 years and loved stopping into Next To New to do some thrift shopping! When Morning Blessings closed, I asked Mary Wabeke if Next To New could use some extra help, and she was so happy to have me join the team! It was truly been a blessing finding my home here!
I knew a couple of the volunteers from my time as a "shopper" but I've had such a great time developing new friendships with so many people. I've even been lucky enough to form friendships fellow commuters on my bus ride downtown! Next To New provides such a far-reaching benefit to those it serves!
One of my favorite memories during my time with Next To New is when renovated the shop a couple years back; moving around the shop's floorplan, painting, and redecorating. I've also really fallen in love with some of the fun opportunities that Next To New offers, like our Thursday Summer Sidewalk Sales or helping with the Old West End Festival book-sale! I think my favorite part of serving downstairs is getting the chance to help people; I take great pleasure in helping people find little treasures in the shop or sharing my love of fashion and art when people ask my opinion on their purchases! I've also really enjoyed having Lynzi here with us this past year; she's brought about a new, fun direction for the shop to go in. All of the (new and old) volunteers at Next To New are incredible people and it is very true that the shop wouldn't be the same without each and every one of them.
I don't have an extensive history with Trinity itself, but I have had the pleasure of experiencing a service a while back and can remember how incredible the music was. But despite my limited time with Trinity, I am so grateful for the existence of Next To New and look forward to many more years of serving our beautiful community with some amazing people!