Beloved Friends,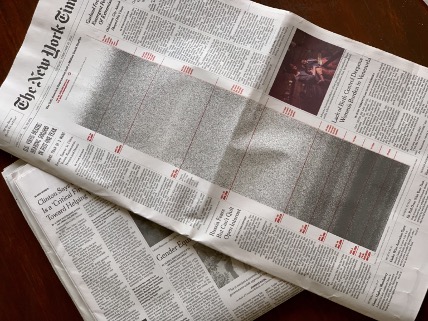 I write to you today with a heavy heart as we try to comprehend the magnitude of death and loss run rampant throughout our country since last Spring. There are days I cannot bear to even turn on the news for fear of hearing more dire statistics and feel awash with a sense of hopelessness and fear. At the same time, I know turning away from the devastation does not fix or honor the loss and tragedy befallen on so many; so today I am turning my head and heart straight into the holy task of remembering and ask you to do the same.
At 5:00pm today Trinity will toll its bells 500 times, once for every 1,000 people who have died from COVID-19 in the United States. Each death represents a new absence of life, as others have said, "an empty seat at a table" somewhere and to someone. The magnitude of our aggregate grief is almost unbearable. Coupled with that loss is the inability for us to gather in ways that help us celebrate lives no longer with us and collectively mourn the pain that absence ushers in. So, this evening, we will ring our bells – as a sign of solidarity; as an offering not only to honor the lives taken by this pandemic but also as an audible signal of gratitude for all our first responders who continue to show up day after day extending love and care for those in need.
For anyone who has ever attended an Episcopal funeral or Memorial service, you most likely have been invited to read or at least hear a recitation of the 23rd Psalms. It has become for so many iconic, and like all brilliant poetry, an access point or window into the Divine. Years ago, some of us found a new way into the power of those images when Jazz singer Bobby McFerrin re-interpreted the verses with feminine imagery and dedicated this new version to his mother. I would like to offer his narrative/story of how this came about for him as a sign of how we know God's love in the midst of our daily lives:
The 23rd Psalm is dedicated to my mother. She was the driving force in my religious and spiritual education, and I have so many memories of her singing in church. But I wrote it because I'd been reading the Bible one morning, and I was thinking about God's unconditional love, about how we crave it but have so much trouble believing we can trust it, and how we can't fully understand it. And then I left my reading and spent time with my wife and our children. Watching her with them, the way she loved them, I realized one of the ways we're shown a glimpse of how God loves us is through our mothers. They cherish our spirits, they demand that we become our best selves, and they take care of us. – Bobby McFerrin
So, as we prepare to stand still and hear the bells tonight, perhaps these words can add a level of comfort to our weary souls weaving their way through our collective tears reminding us that we are connected one to another and to God's unconditional love.
Psalm 23- Rewritten by Bobby McFerrin
The Lord is my Shepherd, I have all I need
She makes me lie down in green meadows
Beside the still waters, She will lead

She restores my soul, She rights my wrongs
She leads me in a path of good things
And fills my heart with songs

Even though I walk, through a dark and dreary land
There is nothing that can shake me
She has said She won't forsake me
I'm in her hand

She sets a table before me, in the presence of my foes
She anoints my head with oil
And my cup overflows

Surely, surely goodness and kindness will follow me
All the days of my life
And I will live in her house
Forever, forever and ever

Glory be to our Mother, and Daughter
And to the Holy of Holies
As it was in the beginning, is now and ever shall be
World, without end, Amen, Amen.
May you never forget that you are loved.
Lisa