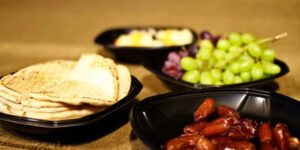 April 6, 2023
(Please RSVP by March 31)
Jesus gathered with his friends to celebrate the feast of the Passover the night before he died for revolutionary love. In his Jewish context and tradition, it was a time to remember how God had led the people of God out of slavery, through the waters, through the wilderness, and into the Promised Land.
Each Sunday when we celebrate the Eucharist we hear the story of how, gathered around that table, Jesus took bread, blessed it, gave it to his disciples. Then, after the meal, he did the same with a cup of wine. For Christians, this gave us the pattern and practice of a new covenant, a new promise, a new way of living with Christ in our midst through these signs and symbols on a daily basis. So once a year, we expand the way we remember that meal beyond the symbols of bread and wine. Rather than imitating or misappropriating a Passover meal- which has its own beautiful history and integrity in the Jewish tradition, we offer a meal of love, a Feast of Friends, to hear the ancient words, sing songs, say the prayers and eat a full meal together. After we eat, we also offer the ultimate sign of Jesus' servant ministry among us through foot (or hand) washing. We kneel down on the ground and humble ourselves as Jesus did serving and honoring the love each of us brings to this time and place.
Please join us on Thursday, April 6 at 6:30 for our Feast of Friends. 
Sign up so we can prepare a place for you- and consider bringing a friend who has never been invited to this Way of Love.