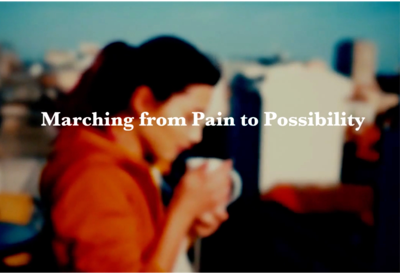 Lenten Sunday evening Film and Faith Series
Sundays- 2/26, 3/5, 3/12, 3/19 & 3/26
6:30-8:00PM
(via Zoom)
Marching from Pain to Possibility:
A Lenten Journey through the Wilderness of Woundedness
Often Lent is associated with sacrificially giving up something (often food-related, but it could also be habitual things), but there is another way to think about Lent as entering into a life of transformation. Traditionally, this was a time of reflection where some persons prepared themselves for baptism. It reflects the 40 days that Jesus entered into the desert to fast, reflect, and overcome temptation. In this way Lent is not only about giving up, but giving in and finding meaning in our deepest longings often formed by woundedness and pain. The churning of the stomach reflects the hunger of the soul for meaning; the desire for sustenance mimics the cry of our being for wholeness and healing. Lent helps us to acknowledge that pain is not something that needs a quick fix, but a call for us to become fully human.
Each week we will watch a short film inviting us to enter into a journey of making sense of our deepest desires that comes from pain and woundedness. We will invite each other into a time of holy listening and learning together through our own stories. We will offer explore spiritual practices to examine both our wounds and the wounds of others and see how we might bring peace and healing. The desert is a place void of easy fixes, but it can also be where we find who we truly are.
Sign up by clicking on the button below..