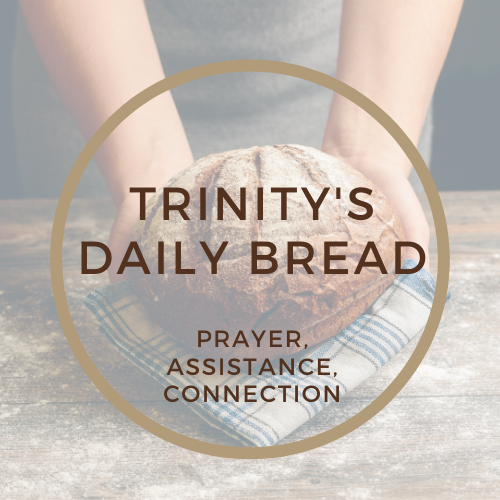 Trinity's Daily Bread
In the same way, prayer is essential in this ongoing journey. Pray hard and long. Pray for your brothers and sisters. Keep your eyes open. Keep each other's spirits up so that no one falls behind or drops out. -Ephesians 6:18
As a community of faith, we are called to love and be loved; to serve and be served, to give and to receive. In short, we don't want anyone to "fall behind or drop out." In this season of connecting in new ways, we are introducing Trinity's Daily Bread.
We remain committed to each other and to finding ways to serve in our greater community. This form has been created for our membership to let us know how we can be of help to each other. Please let us know if:
You need prayer

You need assistance we can offer (a shopping trip, a ride, a delivery etc)

You need some connection (we will call, email or text to stay connected)
Our Promise
Your request will go to a password protected database that Lisa will manage. She will ask for help from others in the community to make these contacts but your confidentiality will be kept. We will trial this new tool for a month and then assess if it is useful and something we want to continue using or change as best suites our needs.