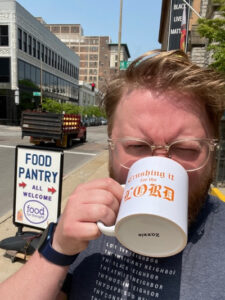 What a week everyone.
Yesterday we were fortunate enough to have an end of summer bbq with our friends over at Toledo Streets Newspaper because they were gifted a grill! What a fun and delicious time – as a reminder y'all are welcome to join us the third Thursday of the month from 9-12 to prep and eat with our friends. You can sign up here. Also, don't forget, Tuesday we have our monthly Food for Thought mobile pantry and our community partners Caresource and the Health Department will be there. For those that don't know or don't remember, Caresource goes through healthcare benefits that our guests may have, and we provide monthly NARCAN training through the health department, as well as offering their harm reduction NOSS program which is for those who are in the throws of opioid addiction. This has been an incredible community partnership, and one we didn't realize was so sorely needed in our little corner of the Kin-dom.
Penultimately, as we all know by know, WE HAVE AN INTERIM!!!!!! This is so exciting, and honestly shorter than most of us anticipated, which is just a wonderful reflection of God's love. I look forward to working with Rev. Dr. Stephen Applegate and all the wisdom he brings.
FINALLY: Are you someone who is looking for a cool volunteer opportunity? Do you like working with kids? Please email me or pull me aside Sunday if you'd be interested in joining our kids formation program. We're in the early phase of launching this, and we'd love to have some volunteers from the larger congregation.
Okay, that's enough out of me. Have a wonderful weekend my friends.
Grace and peace,
George Benson (he/him)