Beloved Friends-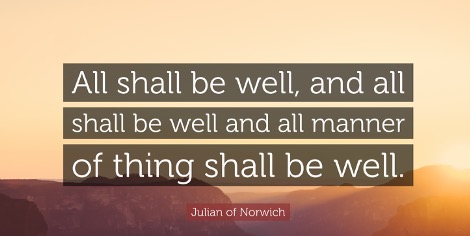 I may be going out on a limb here, but I suspect I am not alone right now when I confess I need a little gentle relief; a quiet moment of reassurance, as the 14th century Christian mystic Julian of Norwich wrote, that "All shall be well, and all manner of things shall be well."
This need comes to me on a regular basis these days, when even the smallest tasks can often emerge as unusually daunting. It was true this week when our beautiful Trinity staff showed up for our weekly "Zoom staff meeting." We took some time to check in with each other and what I heard was the weight of longing for each other as we miss the proximity of meeting face to face and working together on our respective ministries without a computer screen and miles dividing us.
What was also imminently clear was the depth of our gratitude, even amidst our sadness, for the work we share and our larger community. We miss you all so much and look forward to the time when we will gather again hoping never ever again take proximity, shared meals and hugs for granted!
We are also more than halfway through our annual Pledge Drive and are so grateful for the pledges received to date – from members and new Trinity@Home participants alike. It is such a positive sign to be growing and stretching and reaching more and more people in this challenging season.
If you have not had the time to complete the pledge form to date, please do so now as we head into these final days. It is so important to have us all connected and committed to the year ahead. To do so simply go to the on-line pledge form here and fill out the required fields. Thank you for believing in us and the work God has given us to do together.
In the meantime, take in a deep breath and soak up these words below into the deepest parts of your beautiful soul this day.
May you awaken to the mystery of being here and enter the quiet immensity of your own presence.
May you have joy and peace in the temple of your senses.
May you receive great encouragement when new frontiers beckon.
May you respond to the call of your gift and find the courage to follow its path.
May the flame of anger free you from falsity.
May warmth of heart keep your presence aflame and may anxiety never linger about you.
May your outer dignity mirror an inner dignity of soul.
May you take time to celebrate the quiet miracles that seek no attention.
May you be consoled in the secret symmetry of your soul.
May you experience each day as a sacred gift woven around the heart of wonder.
(by John O'Donohue)
And may you never forget that you are loved,
Lisa