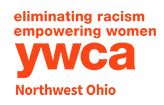 The YWCA I Rise Coalition will be holding their 4th Annual Unity March on Sunday, January 26, 2020 from 3:30pm-6pm in Downtown Toledo, encouraging folks to gather peacefully to promote a clear message that Toledo- Lucas County stands for peace, justice, freedom and dignity for all.
The day will begin at 3:30 at the Love Wall (1209 Adams St) with a Welcome and Guest Speakers. The actual march will commence at 4:15 and will end at Trinity Episcopal Church around 4:30 where there will be local speakers addressing concerns of the local community.
The YWCA of Northwest Ohio, works to meet the diverse needs of women and eliminate racism by serving more than 29,000 individuals through various programs each year. Those programs include the Domestic Violence Shelter, Rape Crisis Center, Child Care Resource and Referral, Youth Development, Permanent Housing, and Healthy Connections.
For more information on the Unity march please visit our Facebook Page I Rise, Toledo at facebook.com/toledoirise or call Kelley Webb at 419-241-3235 ext. 122. For more information on the YWCA, please visit ywcanwo.org.