Trinity remains in Phase 1 of our COVID response plan, extending our suspension of in-person public worship for the time being.
Sunday, February 28- we will offer our Trinity@Home online worship service. It will include prayers, readings, and music. We will have an accompanying bulletin available to follow along with. As we continue grow into using this platform each week, we do so with faith and courage, and the expectation of always learning and improving as we go.
Join us on Sunday for our online worship service at 10:00am.
Watch below by clicking the red play button,
or directly from our Facebook Page, 
or directly from our YouTube Channel.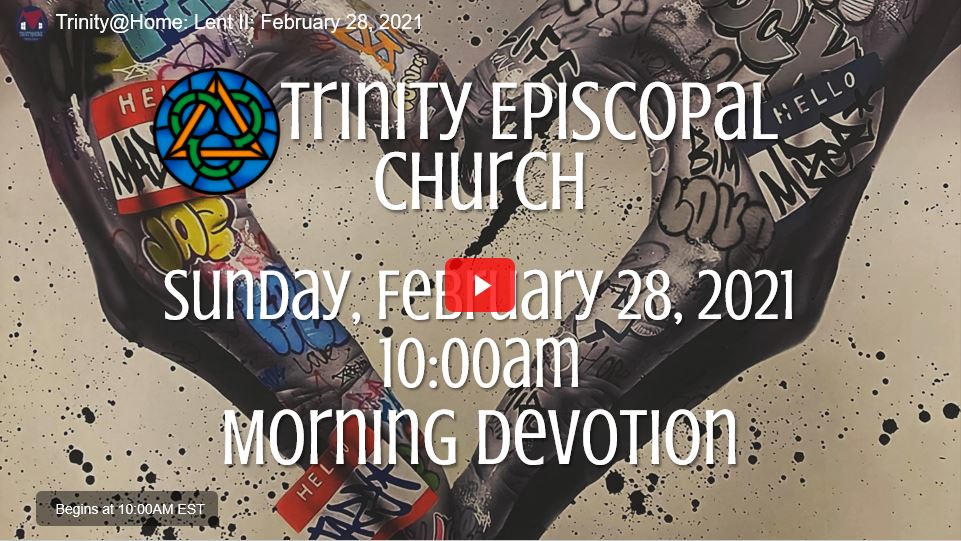 Worship Service Bulletin
Download and follow along to the readings, prayers and music during the service by clicking here. 
Online Giving and Sunday Offering
A virtual offering plate has been created on our website's Online Giving page. Through this online resource, you can make a regular Sunday offering or a pledge contribution.
 11am Coffee Hour
Click here for the Meeting ID for Coffee Hour –
Lisa will provide the Password during service. 
New to Trinity?– Good morning and "welcome home" to Trinity! Whether you are new to our community or have found yourself coming back again and again, we want you to know you are both welcome and wanted here among us.