Tuesday February 25th, 5:30-7:00pm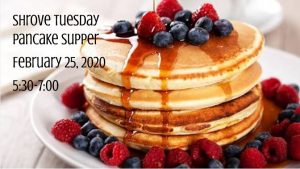 Come celebrate Shrove Tuesday at Trinity! We will be hosting a pancake supper on Tuesday, February 25 in My Brother's Place from 5:30-7:00. Free-will donations will benefit our Ministry Partner, Toledo Streets Newspaper. Their vendors, volunteers and staff have been invited as special guests. We ask that everyone RSVP so we can make sure we have enough pancakes for all to celebrate. Click here to RSVP.
Did you know!!!
Pancake Day, or Shrove Tuesday, is the traditional feast day before the start of Lent on Ash Wednesday. Lent – the 40 days leading up to Easter – was traditionally a time of fasting and on Shrove Tuesday, Anglo-Saxon Christians went to confession and were "shriven" (absolved from their sins).