Join Emily Olson every Wednesday evening from 7:00-8:00 pm starting June 16th as we explore prayer through movement.
Learn to focus your intention with your breath.
Explore physical sensations to become more centered and spiritually aware.
Try on gentle guided movement as a form of contemplative practice.
This is a hybrid class: offered on Zoom and in-person at Trinity (316 Adams Street). It is geared toward older teens and adults.
*Dress in comfortable clothing!
*We ask that you utilize Four Seagate Parking Garage, (entry off N. St. Clair Street) that is directly connected to Trinity. Enter into Trinity through our lower-front garage door. We will validate parking. If you use street parking, pedestrian entrance into the parking garage is accessible from St. Clair Street and Summit Street. 
*Door into Trinity will LOCK at 7:15pm. The Zoom link will be sent out every Wednesday morning to everyone who signs up; if you are planning to attend in person, be advised that the garage door into Trinity will lock at 7:15pm. 
 If you are interested in participating, please click HERE to register via Sign up Genius. The Zoom link will be emailed to you.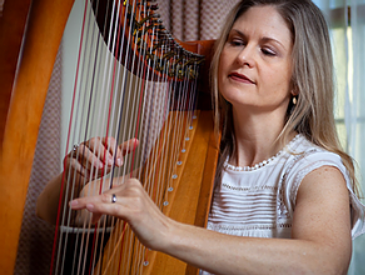 Meet Emily Olson!
Emily Olson seamlessly weaves together music, movement, visual art, creative writing and mindfulness practices in an integrated approach to personal and spiritual growth. Over the course of her 25-year career as a professional musician, she cultivated a holistic approach to mindful awareness by integrating sound, movement, writing, storytelling and visual art with practices from multiple wisdom traditions, as well as through studying the Alexander Technique, Authentic Movement, Body Mapping, Dalcroze Eurythmics, Enneagram, and Feldenkrais Method of Somatic Education. Emily has a Master of Music degree in Flute Performance from the University of Michigan, and her interest in the role of the arts and mindfulness in health and wellness has led to certifications in Therapeutic Music, RYT 200 Yoga Teacher Training, and Trauma & Body-Based Awareness. Emily's depth and breadth of artistry have been fostered by her spiritual journey, which can be characterized by lifelong curiosity, an unbound pursuit of wisdom, and a constant longing to evolve.
Accessibility:
Movement will be accessible to all body types and abilities (ages 16+). Emily would like to make this experience as accommodating as possible! Please reach out to Emily directly if you have any questions or concerns about physical limitations, in advance: emilyolson.427@gmail.com