Beloved Friends-
I sit down to write to you this week with an aching heart; I miss you, I miss us, I miss our gatherings, our rituals, our laughter, our shared meals, our ways of meeting, protesting, working, singing, praying and laughing together. I miss everything about getting ready for our worship on Sundays- even the things that used to annoy me (and no doubt will again once we are back together and I forget to remember this time …). So, part of me simply wants to acknowledge my sadness today so that I don't forget and instead let this yearning inform a deeper appreciation for proximity and presence when we are face-to-face once more.
I am also so very grateful that once again we will in fact gather together through Trinity@Home. This Sunday marks the end of our liturgical year. We are in for a treat as Trinity member, Becky Roth offers a wonderful sermon (yes, in this reality I get to experience sermons more than once), inviting us to think about a new way of approaching what otherwise might be a challenging collection of images and metaphors for this Sunday we call, Christ the King.
This kind of a king is not recognizable in our world today.
This kind of a leader is not recognizable in our world today.
Christ as King—confronts our assumptions about power and privilege and offers us a chance to see this kind of "King" as one who forgives and loves; one who invites our allegiance and loyalty not for control or manipulation, and as the one who extends the ultimate invitation to true, authentic, compassionate freedom and liberation.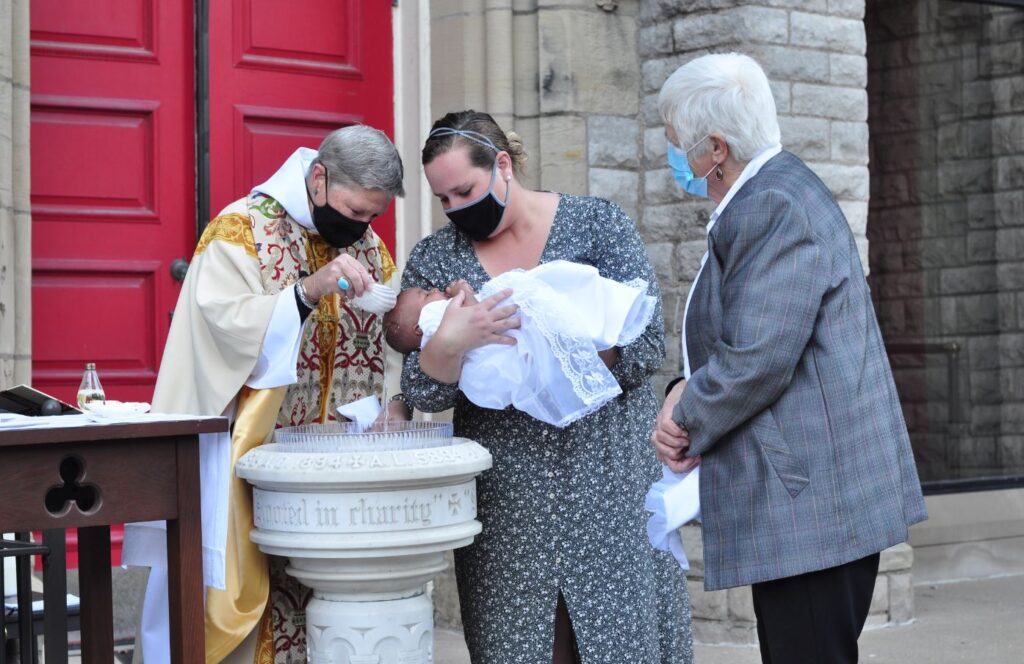 We will also come together Sunday to celebrate the baptisms of 5 beautiful children of God. On Saturday, November 7th a handful of us gathered on the sidewalk outside of Trinity to offer God's love through the sacrament of baptism. Molli Janet Anderson, Joshua Elliot Frelin, Lyla Jennifer Anderson, Rylee Mitchell Robison & Louella Ray Anderson were welcomed home into this faith community and the fellowship of the church through the symbols of water, oil and light. It was, to be sure, different than we thought it would be, and yet also a time none of us will ever forget. It was another sacred reminder that God's love is boundless and even when we are apart- there are always creative ways to stay connected. So don't laugh next time I ask you if you'd like to have your wedding or baptism out on the sidewalk!
Thank you again- for all the ways we are still finding to be a community- laughing, learning, living, serving others and growing in God's love day by day.
May you never forget that you are loved.
Lisa