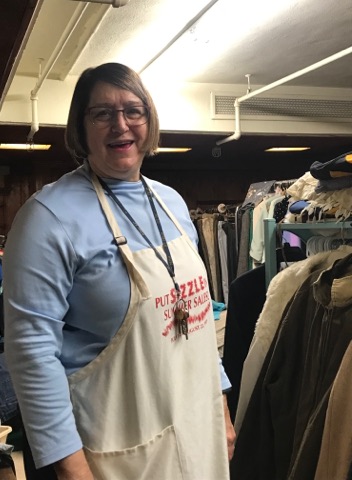 [ The next few weeks will highlight the wonderful volunteers down at Next To New thrift shop, one of Trinity's 2019 Ministry Partners. Next To New, located in the lower-level of Trinity, has been serving the local community offering low-priced, high-quality new or slightly used clothing, household goods and kitchenware for nearly 70 years.]
I was a teacher of children with special needs. I always wanted "my kids" to be accepted and treated with dignity. That same philosophy carries over to our customers and volunteers at Next To New.
Recently we had a young man (not our first by any means) who came into our shop willing to work for food, and he was hungry…very hungry. There were some Christmas Cookies on our table, he left a few. We gave him what we could find – leftovers from a coffee hour, chunky peanut butter, hot coffee, etc. He was very happy with our meager and somewhat stale offerings and for the next 2 hours, he worked with us to move leftover Christmas stock to storage. Another fellow came in on a rainy day completely soaked and shivering. We provided dry clothes, socks, shoes and a towel to dry off. He left warm and thankful.
Helping people like these 2 men is one of the reasons I volunteer 2 days a week for 6 hours a day and find it rewarding. Yes, I love it! The NTN shop has so much to offer our customers. We have one volunteer I call the "earth mother of NTN", she has a smile, a hug, and kind words for anyone who needs it. We have another group of volunteers who are intellectually challenged. Everyone of them has something different to offer. We accept all.
The people who volunteer at NTN are dedicated and hardworking. We always welcome new faces and hands to our gratifying and useful ministry. And we will always work to help those in need.