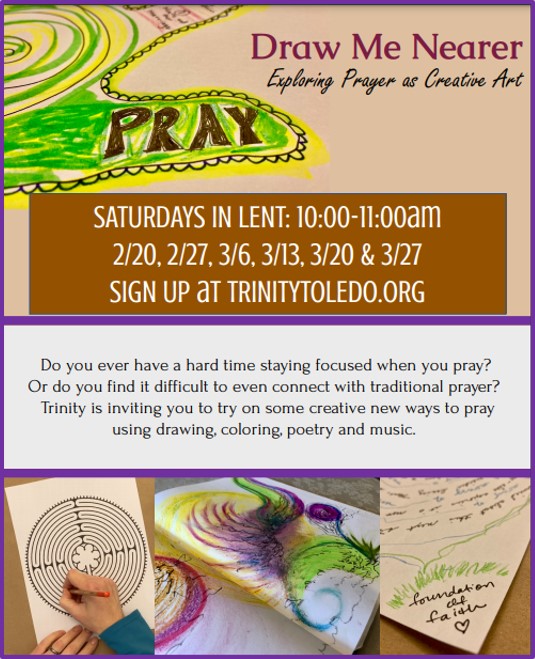 Every Saturday morning in Lent, join us as we explore prayer as a creative art form: whether you find it difficult to engage with traditional prayer or you're interested in enriching a current spiritual practice, this workshop offers you inspiring new ways to pray through drawing, coloring, poetry and music. All levels of artistic experience and ability are welcome, especially those who believe they don't have a creative bone in their body.
Emily Olson, Arts & Mindfulness Coach, will lead this creative art and prayer exploration for 6 consecutive Saturday sessions beginning February 20 and concluding March 27. Each Saturday in Lent we will meet 10:00-11:00 AM on Zoom.
Materials Needed:
plain, unlined 8 ½ x 11 paper (several sheets per week)
assortment of different colored pens, markers, colored pencils, crayons – whatever you have on hand!
scissors (optional)
If you are interested in participating, please click HERE to register via Sign up Genius.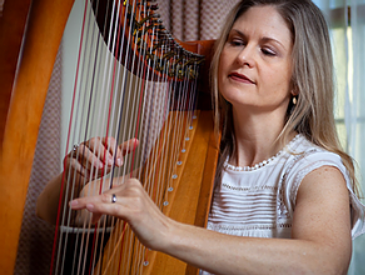 Meet Emily Olson!
Emily Olson seamlessly weaves together music, movement, visual art, creative writing and mindfulness practices in an integrated approach to personal and spiritual growth. Over the course of her 25-year career as a professional musician, she cultivated a holistic approach to mindful awareness by integrating sound, movement, writing, storytelling and visual art with practices from multiple wisdom traditions, as well as through studying the Alexander Technique, Authentic Movement, Body Mapping, Dalcroze Eurythmics, Enneagram, and Feldenkrais Method of Somatic Education. Emily has a Master of Music degree in Flute Performance from the University of Michigan, and her interest in the role of the arts and mindfulness in health and wellness has led to certifications in Therapeutic Music, RYT 200 Yoga Teacher Training, and Trauma & Body-Based Awareness. Emily's depth and breadth of artistry have been fostered by her spiritual journey, which can be characterized by lifelong curiosity, an unbound pursuit of wisdom, and a constant longing to evolve.
Accessibility:
Emily would like to know if any participants are left-handed, require closed-captioning, and/or have any other accessibility concerns about the workshop. She would like to make this experience as accommodating as possible! Please reach out to Emily directly: emilyolson.427@gmail.com