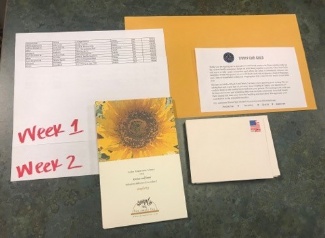 Every week, a group of a dozen or more people have been writing and mailing cards to members of our congregation, filled with messages of love and hope, creating a sense of connection in our faith community while we are unable to gather in-person. The Card Guild will continue to send these cards over the next few weeks (at least). You are invited to sign up to send these cards by clicking on the following link.
https://www.signupgenius.com/go/60B084AADAC23A0FD0-card1
Once you have signed up, Kim Henkel will send you a packet that will include everything you need: instructions, blank cards and envelopes, weekly mailing lists, and stamps. All we need from you: loving thoughts and kind words.