Music at Trinity
While our in-person worship is suspended thru end of January 2021, music at Trinity continues to flourish as we learn and live into a new way of bringing our unique soundtrack to our community each week.
Email Director of Music & the Arts, Nate Leonard to get started on your journey with our Canterbury Choir this fall!
Mission Statement- Music and the Arts
To create significant, deep, and lasting spiritual relationships by breaching cultural, monetary, and gender identity barriers through all musical and artistic expressions.
Choir Contact
Nate Leonard
Director of Music & the Arts
Clergy
The Rev. Dr. Lisa Tucker-Gray
Rector, Trinity
Choir Rehearsals
Thursdays at 7:00pm
via Zoom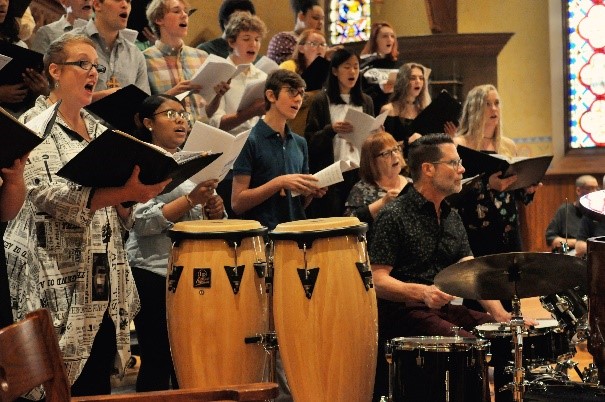 Canterbury Choir
Participation in our Canterbury Choir is open to anyone, regardless of experience or ability.
The Canterbury Choir participates regularly at our 10:00am Holy Eucharist on Sunday mornings during the choir season (September to May). It leads congregational singing and presents offertory anthems and other liturgical music.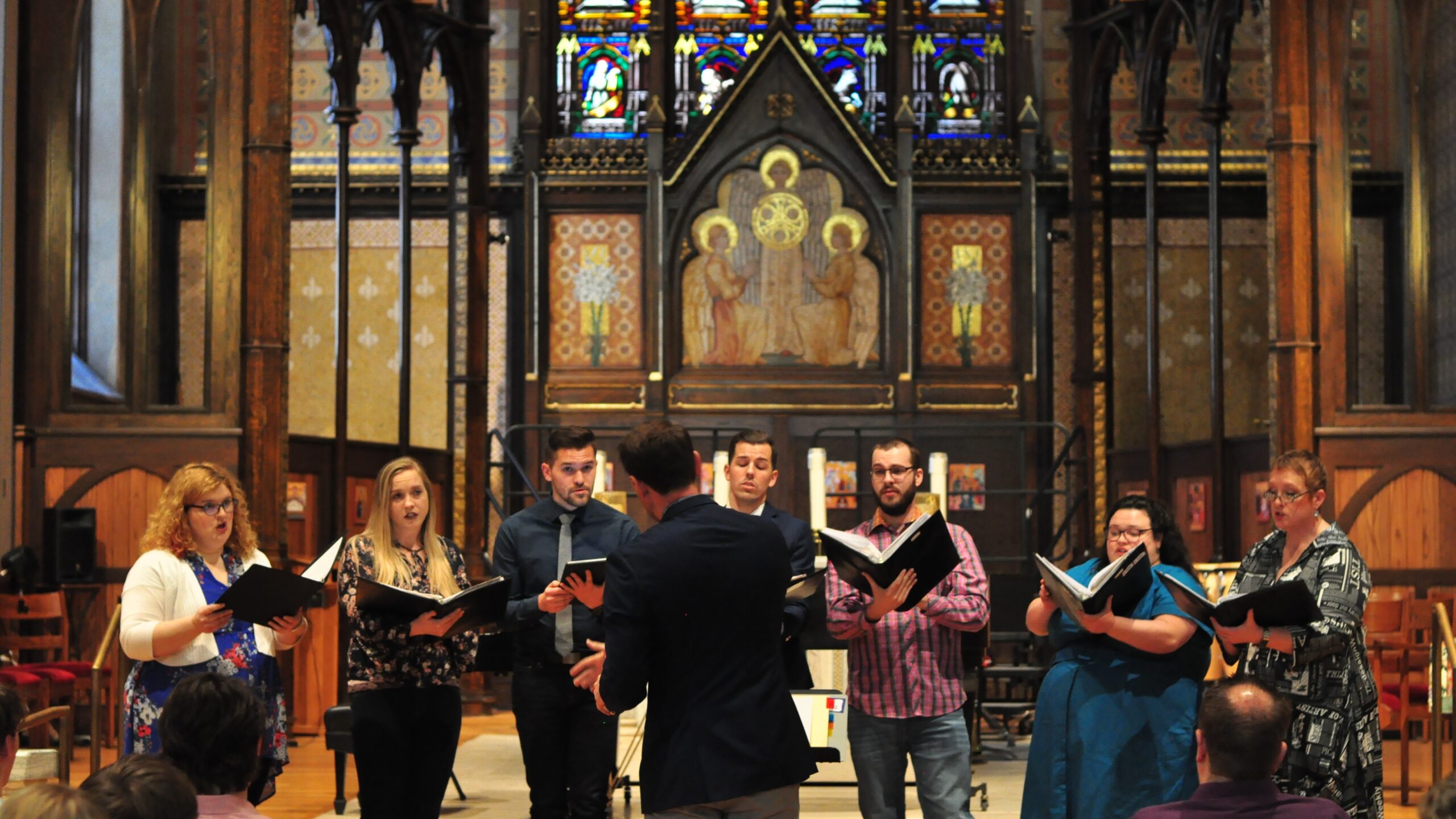 Jobst Choral Scholars
Through Caroline Jobst's legacy of giving, Trinity employs five collegiate vocal performance majors to bolster and empower the thirty-five voice Canterbury Choir.
This outstanding group of five singers,  both bachelor's and master's vocal music degree holders, will assist in leading us in worship just as much as the rector and the music director.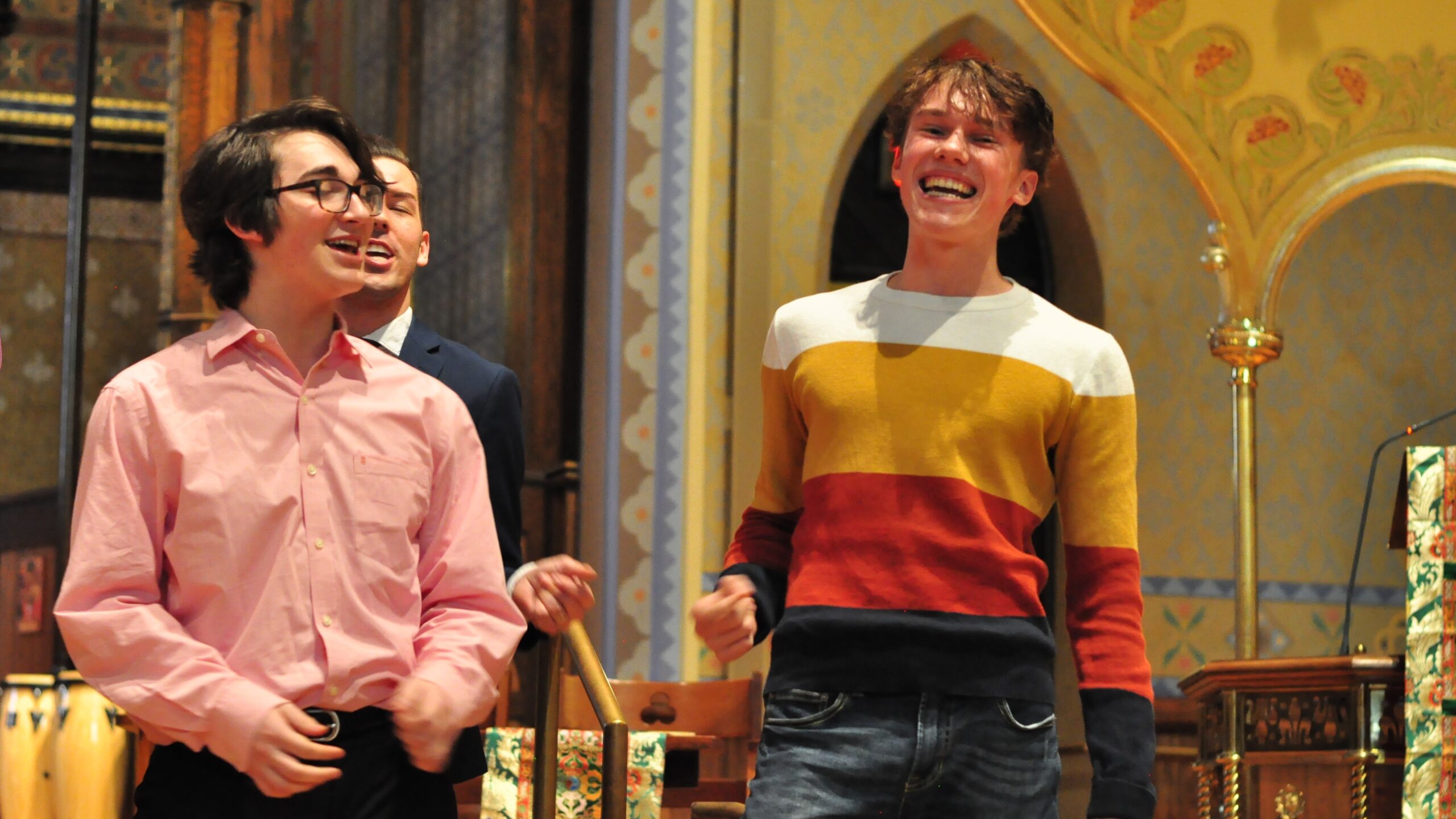 High School Program
We're dedicated to providing a vibrant place of learning and community, increasing musical skills, and growing within the context of the faith community. If you're interested in supporting our program or learning more, please contact Director of Music & the Arts, Nate Leonard at nate@trinitytoledo.org. Trinity seeks 12 to 15 area high schoolers to serve in the mixed Canterbury Choir with adults from Trinity's Congregation. Currently, our students represent Waite High School, Toledo School for the Arts, Bowsher High School, and Start High School. Each student is paired with an adult mentor from the choir. The students join us Thursday evenings and Sunday mornings and are compensated $25 a week. We provide breakfast on Sunday mornings and help with transportation when needed.
From the Director of Music & Arts
Nate Leonard
"To whom much is given, much is expected."
This loose paraphrase of an excerpt from Luke 12 has been rattling around in my head ever since I signed on the   dotted line. As I began educating myself about Trinity's musical history, recalibrating to the radical and ridiculous   message of outlandish love, meeting the congregants and staff, and finally pondering my own views on what the   ideal, uninhibited, and prospering music and arts program looked like I quickly realized why I felt awkward- this   church isn't the status quo.
The status quo has a congregation that likes to be kept fat and happy: feed them good music, sermons that are   watered down and lack sharp edges, put their happiness first and foremost, and they will remain rooted in their pews. The status quo pastor reacts to unrest in the congregation, and instead of leading becomes a first responder and a downright professional firefighter. The office staff learns to anticipate conflict and cherishes the status quo because it's where peace is found. We are not this congregation.
For this reason, I am out-of-control excited for what we can achieve. My vision marries the best of the fine Trinity Tradition with need to be current, progressive, and inclusive. My measuring rod is and will be the connections and relationships that stem from our arts and music program.