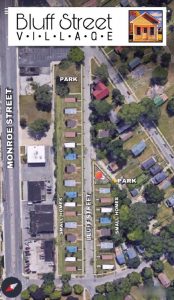 On Sunday February 9th following our 10:00 worship service we will offer an Adult Forum in My Brother's Place led by the Rev. Larry Clark of Monroe Street Methodist Church. He will be introducing the Bluff Street Village Project providing an overview, update and ways we might consider getting involved as a community.
Bluff Street Village is a Tiny Home community for very low income people that will reclaim
an abandoned urban street.  In seven years the renters will become owners
of their homes paying only $400 a month.  Bluff Street Village will
be a stabilizing force, a sign of new investment that will spark new development.