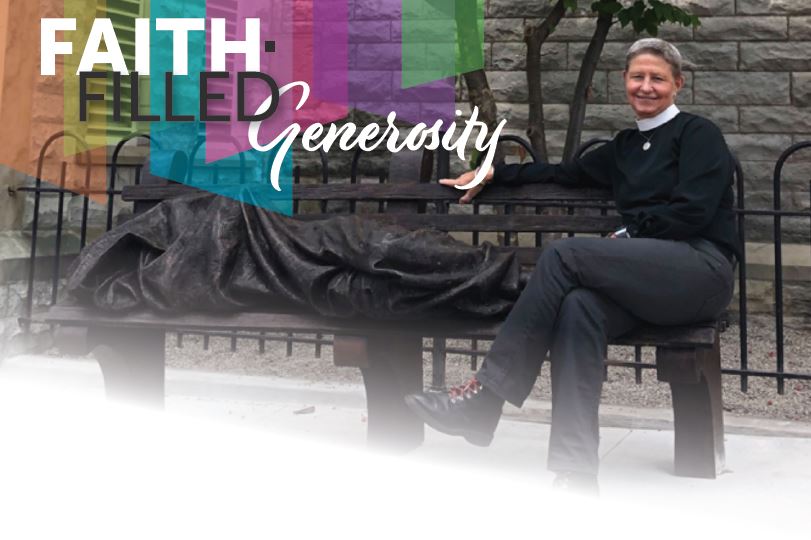 BELOVED FRIENDS –
Welcome to the 2020 Pledge Drive – a time of intentional reflection and response to what it means to be a community of faith supporting the ministry we share. Each fall we boldly talk about money and its power and promise as we plan for another exciting year ahead. You are an invaluable part of this process – so welcome.
When we set "Faith-Filled Generosity" as the theme for this year's pledge drive we did not know what this year would be like. We had no idea that Trinity@Home would be our new way of spreading the Good News of God's love in our lives, and yet here we are – bigger and bolder than ever – living into new ways of sharing and living into the ancient messages and rhythms of our life together. We are stronger, more resilient, and more connected than we have ever been as a Church and as a community of neighbors. Thank you. Thanks to each one of you doing your part in your homes, workplaces, schools, neighborhoods, families, and here in our community of faith.
Together we have witnessed countless ways we have used our resources for the mission of the Church to help each other, our immediate neighbors and a hurting world. This coming year, we will explore the way our generosity is inspired by our faith, how we are formed and boldly led into relationships with each other and courageously share our gifts with the world. This is what we mean by "Faith-Filled Generosity." How will each of us discover and use the gifts given to help our community this year? How will each of us hear the Gospel call to seek and serve Christ in all people, and respond with generosity? As we look at each family, each individual in our community, each new friend that has found a new spiritual home with us since March of 2020, I realize we are the stewards of abundant grace because we give to the world from what we have received ourselves.
This pamphlet seeks to answer some of your questions for our 2020 Pledge Drive as well as includes a pledge card to be used once you have discerned your level of giving for the year to come. We invite you to receive this with grace and prayer as you consider how you will share with God and God's Church from what you have received.
Lisa
The Rev. Dr. Lisa Tucker-Gray, Rector, Trinity

Why do I need to pledge? Can't I just contribute financial support through the online giving program?
This question has two separate but related answers:
1) Part of our spiritual path calls us to live out our lives increasing our "Faith-Filled Generosity," recognizing the abundance of gifts we have in our lives and offering a portion of those gifts back to do the work we are called to do in the world.
2) Just like a family or a business, Trinity manages its resources wisely establishing a budget with anticipated revenue and projected expenses for the year ahead. The pledges of our members make it possible to forecast our annual income (along with additional resources), rather than guessing. Committing in advance to the dollars we will give to Trinity also helps members with their own household budgeting.
In the end your pledge is a tangible sign and symbol of your ongoing commitment to supporting the ministry, witness and service we engage together throughout the year as well as your response to all the blessings we receive walking this path of discipleship together.
Who decides what to do with the money pledged?
Approving the annual budget is the responsibility of our Vestry, the 9-member elected leadership team made up of parish members. One of their responsibilities is to act as agents and legal representatives of the parish in all matters concerning its corporate property including finances. Over the past three years, Trinity has developed a clear budget process beginning in July and ending with an approved budget in December. Then the Sunday prior to the Annual Meeting in January, an all-parish gathering is held to discuss the approved budget for the year ahead. All are welcome and encouraged to attend. This year we will be offering this gathering virtually to keep us safe and informed.
How many people/families make an annual pledge?
In 2020, 64 households committed to pledges totaling $167,950 making up approximately 28% of our overall operating budget of $741,857. Trinity, unlike many other Episcopal churches, is richly blessed with outside resources in the form of generous legacy gifts from those who have been blessed and changed through the ministry
we have shared in the community for many years. We are also challenged at times in our ability to communicate the importance of cultivating a more engaged commitment of "Faith-Filled Generosity" and stewardship from our current membership in order to decrease our disproportionately weighted reliance on these funds to balance our budget. We will continue this conversation and education this year, as together we give thanks for all the resources we share.
How much do people pledge?
This is the decision of each individual/family. We can share the average pledge in 2019 was $2,972, with pledges ranging from $200 to $20,000. Our goal this year is to increase overall participation asking everyone who calls Trinity their spiritual home to make a pledge supporting all the things God is calling us to do in the world.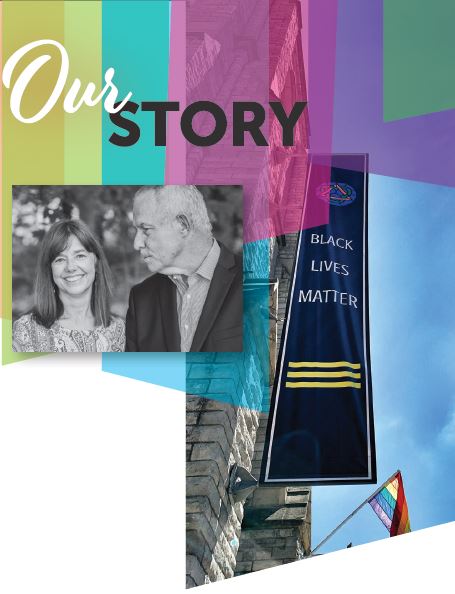 In August 2016 we found ourselves "church shopping." Over a period of time we visited many nice congregations and continued searching for various reasons. We came to Trinity at a time when the church was in between permanent priests, attendance was light in late summer and we had no expectations of any kind. When we walked through the doors, the love, compassion, kindness and empathy of the people were instantly captivating. It is hard to put into words what we both felt that first morning, but suffice to say we knew we were "home." We decided at that moment to be active participants in everything Trinity did, which meant giving of our time, energy and resources and we have not looked back.
Now, four years later we both have had amazing experiences as members. We have served and participated in leadership roles, worship, classes, events, gatherings, and many opportunities to serve in the larger community side by side with other members. Amy has completed seminary during this time and has found places to offer her gifts through
preaching as well as serving as a Trinity liaison board member with our community partner, Toledo Streets Newspaper. Dennis has served in an elected leadership role as a member of the vestry and brings his professional experience and passion for real estate and building compassionate business models to all he does in our community. Together, we feel blessed, proud, and grateful to be a part of this great adventure with our friends at Trinity.
Amy Saylor & Dennis Degnan